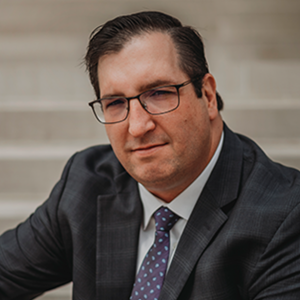 Stephen Pontoni
MSAE role: Treasurer
1st Year of Involvement in MSAE: 2013
Professional role: Executive Director
Employer: Michigan Association for Justice
Years in Current Position: 10
In-office, hybrid or remote: Hybrid

MSAE: Tell us about your family, pets, and where you call home.
SP: My wife and I have two boys, Jack (11) and Daniel (5). Also in our Brighton household is our pitt/lab dog Ryker and our cat Zeno.
MSAE: What do you do for fun or to relax?

SP: I like to golf, watch football, and drink Bourbon.
MSAE: How did you first become involved with MSAE, and what motivated you to do so?
SP: I attended MSAE's Government Affairs Academy.
MSAE: Tell us a little bit about your experience working with or for associations.
SP: I've only been at MAJ, previously I worked in politics.
MSAE: What made you want to join MSAE's Board of Directors?
SP: I wanted to learn more about the organization and help it move forward.
MSAE: What other board work, volunteering, or side work do you do?
SP: I am the chair of the Michigan Association of Bar Executives. I'm on the executive board of the National Association of Trial Lawyer Executives. I serve on the Huron Clinton Metroparks Authority. I run the Mid-American Global Education Council and the Great Lakes Political Academy.
MSAE: What message or advice would you like to share with other members who might be considering getting more involved in MSAE?
SP: I have had the fortune of building relationships with people that I probably never would have had the opportunity to.