Post a Job
Association talent at your fingertips!
If you are looking to find qualified talent for your organizations, we have excellent recruiting options for you. MSAE offers affordable job postings through Update and Association CareerHQ.
Creating a job posting that produces great candidates is easy if you remember one thing: it's an advertisement for your association, not a job description. Too often, job postings are developed from internal job descriptions, which result in messages that fail to promote an association's unique value proposition as an employer or attract response from A-level players. By using the these simple steps, you can create a competitive advantage and succeed in hiring top talent.
– Source: Career Headquarters, How To Create Job Postings That Attract Top Talent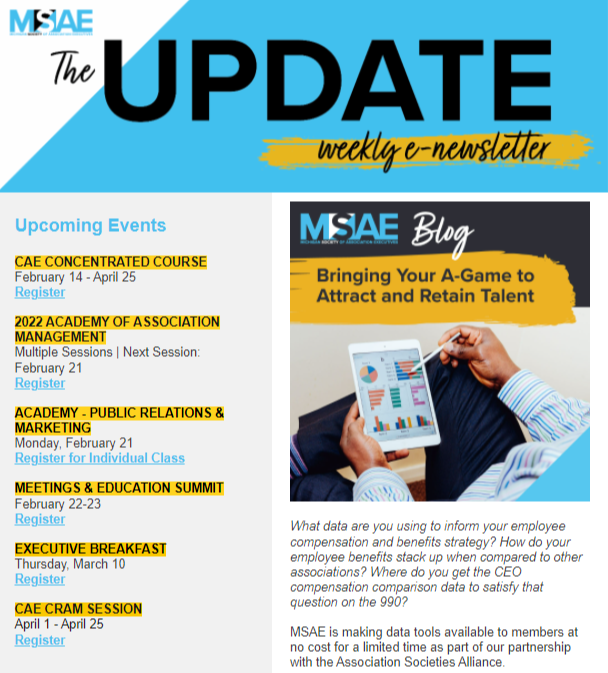 Update E-newsletter
Every week, MSAE's weekly e-newsletter, Update, reaches the desks of over 3,000 association members and supplier partners in the state of Michigan. Posting a classified ad costs $100 for members and $150 for non-members. Headlines and two hyperlinks are complimentary with any posting. We recommend writing a brief summary of the available position with a hyperlink to a more detailed description. Email classified ads to MSAE.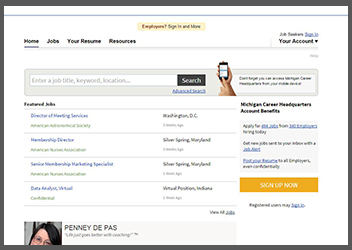 Association CareerHQ
Partnering with Association CareerHQ to fulfill your recruitment needs simply makes sense. Why? Because this resource offer you access to an unparalleled pool of association and nonprofit talent. It not only supplies you with the talent, but also the tools to reach out and make quality connections, allowing you to meet your hiring objectives. A state-wide career posting is $100 and $345 for a 30-day national posting for MSAE members. View a quick reference guide or the full price list to get started.
Association CareerHQ Reference Guide
Click on employers
Note: You will NOT need a member number to post a vacancy.
In the Sign In section towards the right, enter your username and password, then click login (if you do not already have an account created please see directions below on how to create an account)
After you are logged in, click on the "Post Jobs" link under the Employer Links section (this is the first link in the left column)
Fill in the title of the job in the Title field
Continue completing the fields for the job you are posting
In the Will Hire From section, click on the drop down menu for a list of options
If you are going to post the job locally (state of Michigan - $100 for members) then select Local Residents Preferred (No Relo)
If you are going to post the job nationally ($350 for members) then select one of the other options that best fits your posting
Continue completing the fields for the job you are posting
Once finished, click on preview job
Review your job, if you have changes click on Make Changes. If you do not have changes, click on Post Job Now.

Note: You must pay for the job with a credit card before it will become active

Select the payment option you want and click on Select a New Package
Select if you want the job to be featured then click on Continue to Payment
Enter a PO number if you have one for your own internal billing reference
Enter the name on the credit card you will be using
Enter the card number and expiration date
Confirm the amount you wish to pay
Click on Pay with Credit Card
Review your order the click Confirm Order
Your job is now active and your order is complete
Click on New Users Sign Up
Enter the name of your organization (this does not necessarily mean that the organization name will appear on your job postings – you will determine that when you post a job)
Continue completing the fields for your organization
Enter your billing contact information
Select if you are a MSAE member or not (if you do not know, contact the MSAE office at 517-332-6723)
Review the terms and agreement
Click on Submit Form
Your account has now been created. A confirmation e-mail will be sent to you shortly with your username and password.