Thought Leader Webinar Series
The Thought Leader Webinar Series features some of the best association minds in the country in ninety-minute webinars. Held monthly and recorded when permitted, sessions have been hand-curated for Michigan's association community, and each speaker selected for their knowledge and experience.
You have access to lots of virtual content - think of Thought Leader webinars as a fine bourbon that has been crafted in small batches. Instead of being one of hundreds of people on a mass webinar, you'll be with an intimate group of your peers, learning and exploring strategies for practical application in your organization.

Session recordings are available for purchase.
Session Recordings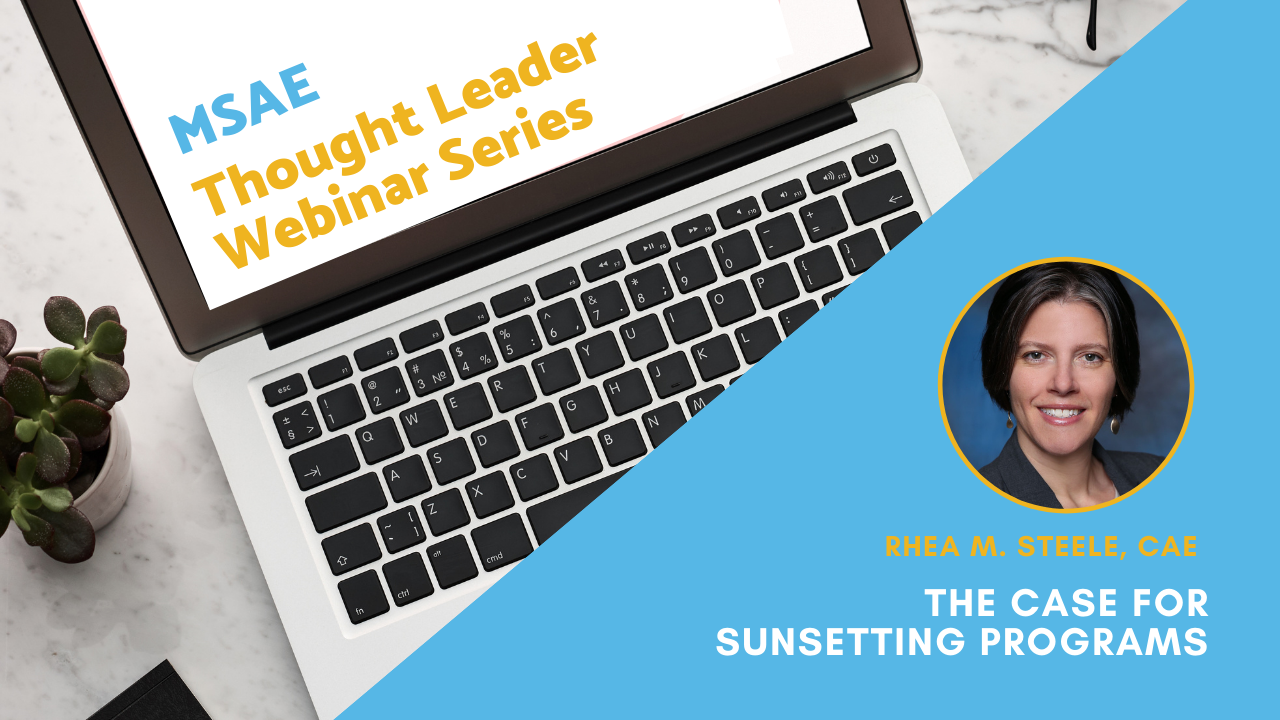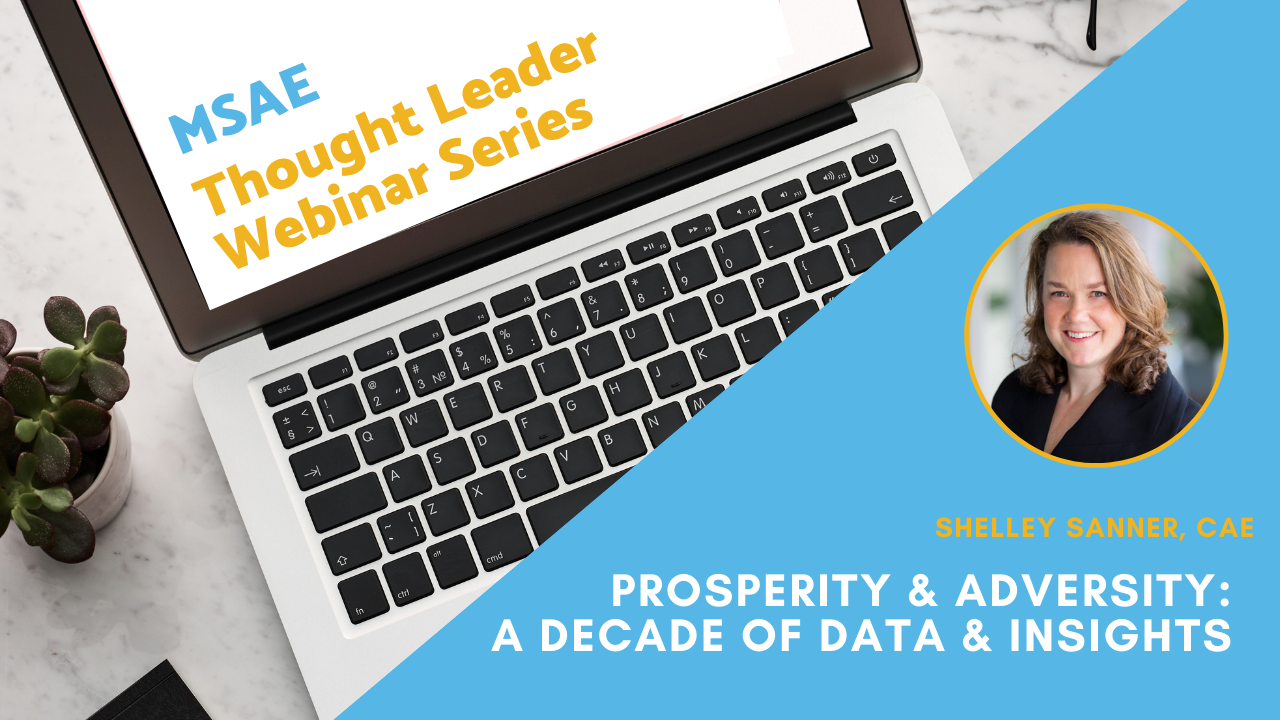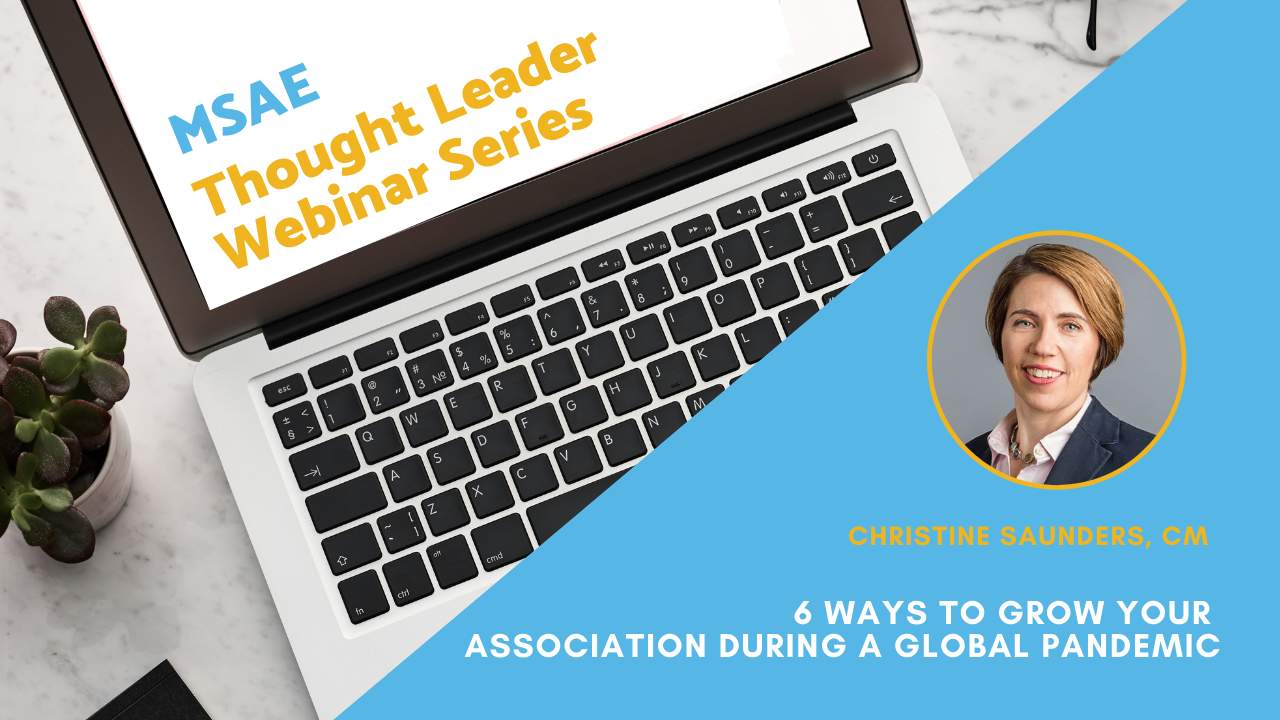 The Case for Sunsetting Programs
Rhea M. Steele, CAE, Chief of Staff
School Nutrition Association
We all have those programs; you know the ones. They aren't providing member value anymore and are impeding the development of new products better suited to meet member needs. As you address questions of long-term sustainability, meeting member needs, and environmental disruption, it's more important than ever to use a practical rubric to identify and jettison those programs. In this webinar, we'll explore two different decision-making frameworks for sunsetting old programs and making room for new, high-value products and services.

1.5 CAE credits

Prosperity & Adversity: A Decade of Data & Insights
Shelley Sanner, CAE, Senior Vice President
McKinley Advisors
For the past six months, you've likely kept your head down and your attention focused on what you've needed to do to survive. You've probably had little time to reflect on what was happening outside of your own organization or what the broader historical context of this current crisis might be. In this webinar, we'll share 10 years of data that will help you compare your organization to others in the sector, learn from the Great Recession, understand the trends that are impacting associations now and into 2021, and learn the practices that help make an association more resilient and impactful.

1.5 CAE Credits

6 Ways to Grow Your Association During a Global Pandemic
Christine Saunders, CM, President
Halmyre
During sudden shocks to our economic system and times wrought with uncertainty, it can seem counterintuitive to be talking about growth. However, if associations are going to be poised for recovery, association leaders need to look beyond defensive measures to focus on growth. Re-tuning and reconsidering value propositions, and taking immediate steps to strengthen and deepen their toolkit for engaging their members, is crucial to survival. This is a practical, hands-on webinar that will have actionable takeaways for association leaders, as well as marketing and membership engagement leaders.

1.5 CAE Credits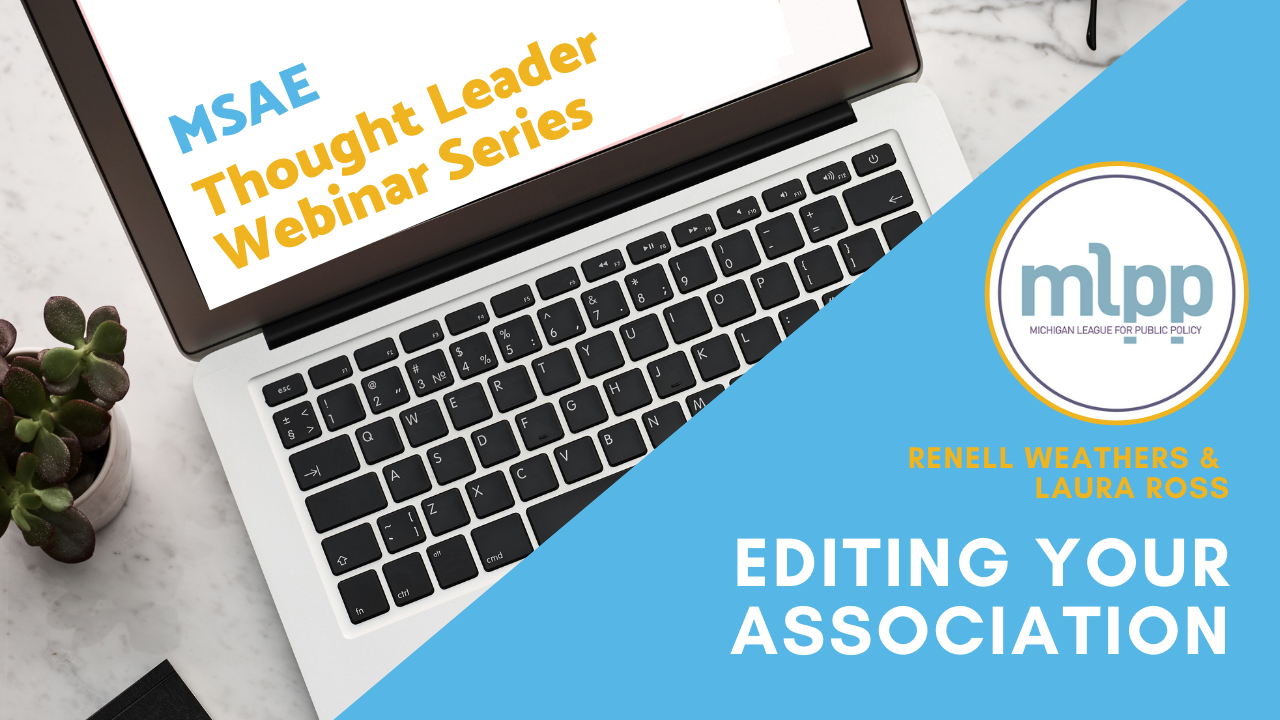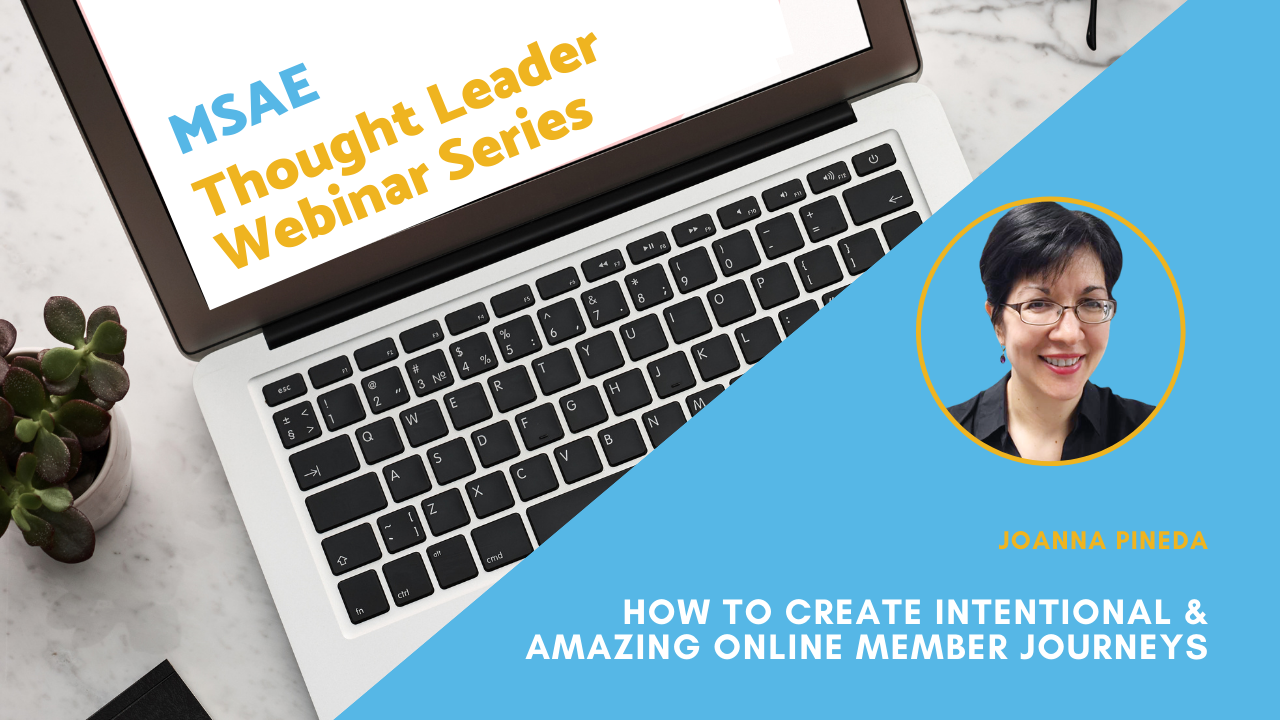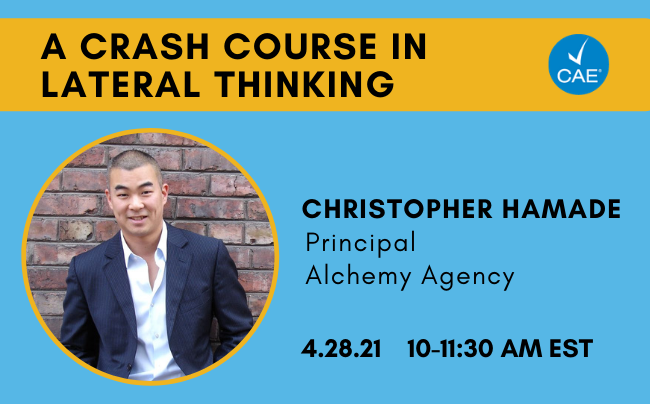 EDITing Your Association
(Equity, Diversity & Inclusion Team)
Renell Weathers, Community Engagement Director
Laura Ross, Communications Director
Michigan League for Public Policy
Help your association cement a stronger and more intentional approach to embracing racial equity and inclusion. Creating a focus on equity is hard work, but it will strengthen your association's effectiveness, your organizational culture, and the ability to achieve your mission. In this webinar, we will discuss the importance of equity work, present a model your association can use, and provide tools to help your association on its journey.

1.5 CAE credits

How to Create Intentional & Amazing Online Member Journeys

Joanna Pineda, CEO & Chief Troublemaker
Matrix Group


Many organizations are struggling because members say they can't find the information they need on their associations' websites, or they find it difficult to accomplish tasks. In this session, featuring examples and case studies, attendees will learn how to identify their most important journeys; how to map these journeys as members traverse their digital properties; how to work with their vendors to make these journeys better without investing in costly custom development; and easy things you can do to make these journeys better, including design hacks and link strategies.

1.5 CAE Credits

A Crash Course in Lateral Thinking
[for Associations]

Christopher Hamade, Principal
Alchemy Agency
Buckle up! This session is going to move fast as we take you on a mind-bending crash course in lateral thinking for associations. While lateral thinking puzzles can tickle our brains, applying the principles to our current circumstances can lead to breakthrough innovation, reveal hidden opportunities, and offer solutions that only seem obvious after the fact.

1.5 CAE Credits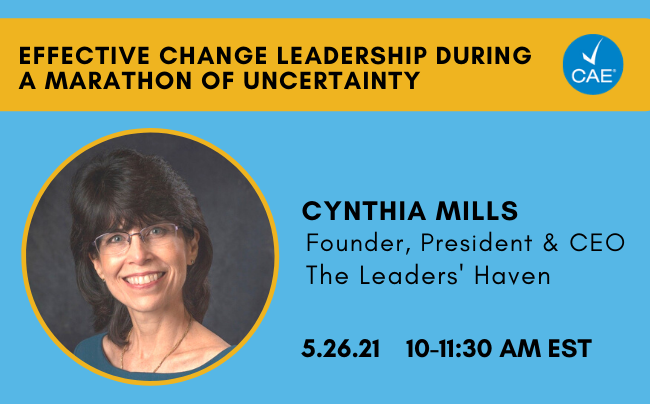 Effective Change Leadership During a Marathon of Uncertainty

Cynthia Mills, Founder & CEO, The Leaders Haven
The 2020s were already going to be the biggest decade of transformation associations have ever seen and leaders have ever had to gear up for... Then came 2020. Year one took uncertainty to a higher decibel than we could ever have imagined. Change leadership is no longer the buzzword - it's transformational leadership with fortitude from staff, board and members. It calls for a different perspective, different habits, and jettisoning casual language to the curbside. Here we go… We're in year two of the 2020s. Are you ready?

1.5 CAE credits