Introducing Pop Up Conversations with Colleagues at MSAE23!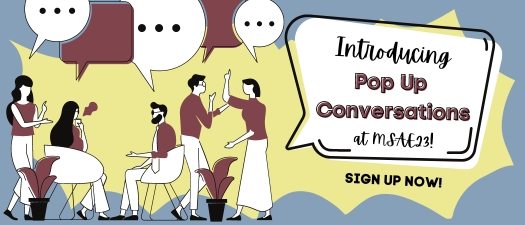 Do you have a specific topic or issue you'd like to discuss with fellow association colleagues?
Or maybe you have a program or idea you'd like to explore with others but didn't have time to submit a conference proposal?
Don't worry - MSAE has you covered! We're thrilled to announce Pop Up Conversations at MSAE23!
How It Works
The Pop Up Conversation Session Room will be available during each of the seven breakout session time blocks at MSAE23. Reserve a time for a conversation of your choosing by registering at msae.org. When registering, you will be asked to provide the topic you plan to discuss. MSAE will promote your Pop Up Conversation Topic and Time in the conference app so interested participants will know to join you at the designated time.
The Fine Print
Pop Up Conversations are intended for discussion and sharing with and among colleagues. Sales pitches and lectures are not welcome. Engaging conversation, idea-sharing, laughter, and fun are most welcome! Only MSAE23 registrants can reserve time slots, of which seven are available.